Frozen semen for AI from our Stallion, Buckhurst Duke of Nangreaves, is available. Shipping all over Europe is possible.
Service fee: 750 Euro
The shipping and ordering of the frozen semen takes place via the EU Stallion station Steinsberg (Station number KBP 175-EWG)
If you have further questions, please do not hesitate to contact us, we are always happy to help.
Phone: +49 175 3134601
eMail info@molehill-shire.de
Buckhurst Duke of Nangreaves 47685
Born: 2013-05-09
Breeder: Andrea Walsh
Sire : Moorfield Edward 46584
Dam : Sladbrook Miss Jones
Sire of the Dam: Caerberllan Real Enterprise
Full pedigree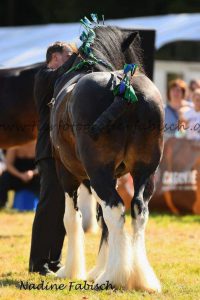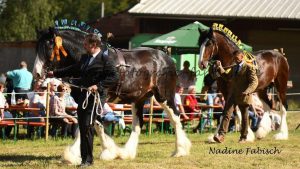 Offspring:
His son, Molehill Tucker, was national foal champion 2017
His son, Molehill Riker, became foal champion at the country show and was colt foal champion at the national show in Germany 2018
Duke was reserve champion 2017 at the German National Shire Horse Show and Silver Spoon Winner 2017 and 2018.
Successes:
1. Place in the stallion class 4 yrs and older, Champion Stallion and Silver Spoon winner
Leckebusch Shire Show 2018
1. Place in the stallion class 4 yrs and older and Silver Spoon winner
Landeszuchtschau Niedersachsen 2017
Reserve champion in the stallion class 4 yrs and older
Bundeszuchtschau Leverkusen 2017
3.Place in the stallion class 4 yrs and older
Nationale Shire Horse Show Niederlande 2017
Reserve champion in the stallion class 2 to 3 yrs
Landeszuchtschau Niedersachsen 2015
Reserve champion foal
Midland Foal Show 2013